Swordfish Level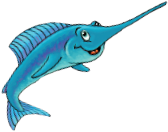 Magnificent! You can swim with Saber Swordfish!
Advanced lessons are for children that understand and are proficient in the three main strokes over a distance of 100 metres, and are able to tread water and carry out surface dives.
The three main strokes are further developed with more emphasis on butterfly. The children are introduced to the different methods of turning such as tumble turns. Advanced rescue techniques are covered along with first aid.
All four strokes are further developed to be more efficient and effective at speed and over long distance. Bilateral breathing control and the beginnings of competitive starts and turns are introduced.
With practice, progression will lead to competence in the perfomance of the skills. To confirm competence the student should be able to perform the skill with consistent reliabilty, based on:- Introduction, Development, Competence and Consistence.