Ipswich
Pool measurements: 18m x 7m
Pool Depth: 0.9m to 1.5m
WELCOME BACK
We have worked hard to ensure your safety, so you can swim, have fun & enjoy a coffee.
All lessons will take place as normal with the following safety in place, as detailed on our Safety at First Strokes page.
On Saturday 27th June 2015 , Sharron Davies MBE, officially opened our newest bespoke pool which is open to the general public and available for booking swimming lessons. Swimming lessons are run everyday and we welcome all ages and abilities. Trial lessons are available on request, please contact us for more information or to book. You do not have to be a member to come along and swim during our JUST SWIM sessions, just pop down to the pool and pay as you go. We also have a soft play area & cafe serving hot drinks and tasty treats. SWIM CAMP is held throughout the summer holidays every year. POOL PARTIES are available to book at weekends, a full hour in the pool with a giant inflatable followed by another hour in the party room…even Sydney Starfish can come along too!
Regular Timetable:
Please note: There has been a change to the Just Swim times. There will no longer be morning or evening sessions. Lunchtimes and weekends are still available.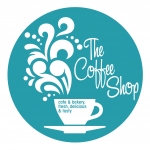 The Coffee Shop
We are open every day!
Freshly made cakes and snacks baked daily with barista coffee.  What's not to love!!  Sydney Starfish Shortbread, our secret recipe sausage rolls and yummy cakes.  Perfect for after your refreshing swim.  Come relax and enjoy.
Find out how you can be a Barista for a day! Click here for details
Contact
Tel: 01473 599066
Email: [email protected]
Hadleigh Road, Sproughton
Ipswich, Suffolk, Ip8 3AS